Blargoans Charity Golf Day 2015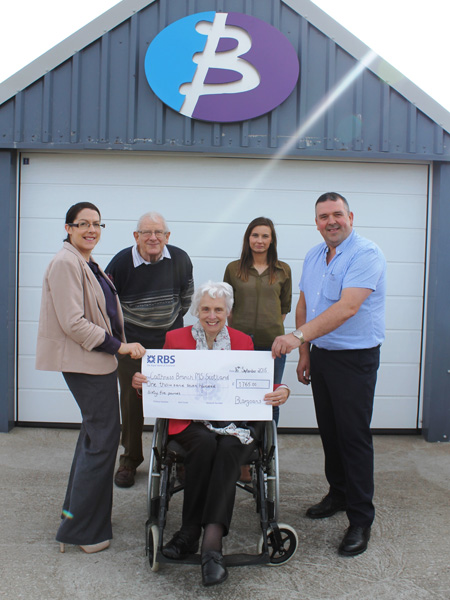 Picture – Theresa Macgregor presenting the cheque to Patricia Stanley, Chairperson of the MS Society Caithness. Also pictured from second left to right – Richard Stanley, Secretary for the society, along with Jade Baikie and William Davidson.
On June 19 2015 Blargoans hosted their Annual Charity Golf Event. The event received overwhelming support, and a wonderful day was had by all. Our sincere thanks and appreciation goes out to those who were involved in the success of our charity raffle. We thank Thurso Golf Club for hosting the day and providing excellent facilities. Due to the success of the event a spectacular total of £5295 was raised, to be shared equally between three well deserving Caithness charities. The Multiple Sclerosis Society, Dunbar Patient Comfort Fund and Caithness Mental Health Support Group. Each charity was presented with a cheque for £1765.
The Caithness Branch of the Multiple Sclerosis Society supports local people affected by MS whether they are branch members or not. The branch provides two weekly therapy groups. Here, physiotherapy and alternative therapies are offered free, to people affected by MS. The Thurso Group meets on Tuesday Afternoons and Thursday Mornings in the Old Cairn housing office, Dunnet Road. The Wick group meets on Monday afternoons in the Youth Centre, Lower Dunbar Street. For further information please contact Julie on 01955 605799. The group also provides support on its local helpline to anyone affected by MS including carers. It is manned by David Macleod daviemacleod@fastmail.fm. Their helpline number is 01847 890575.
Dunbar Hospital Palliative Care Unit, Thurso provides a unique care facility, looking after their patients and the needs of their families. The Palliative Care Unit provides one to one medical attention for extremely ill patients, providing all round care and comfort in very difficult times. Its aim is to provide a safe environment for patients and support for their carers. The unit is equipped with a separate room for relatives who have to stay over in times of necessity. The unit was in need of a makeover, new curtains, some soft furnishings and a change of decoration, to allow visitors to relax in a more homely environment. "I am overwhelmed by the generosity of Blargoans and by the amount raised by the staff. The money will allow us to purchase furniture and fittings to make our palliative care room more comfortable for patients and their families" – Joan Miller charge nurse.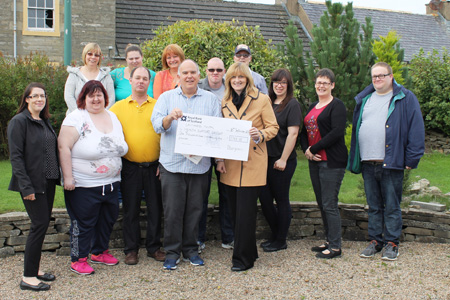 Picture – Theresa Macgregor presenting the cheque to Staff nurses at Dunbar Hospital .
Picture – Carol Paterson presenting to Chris Mckenzie, also pictured is Theresa MacGregor of Blargoans, members of the Mental Health Support Team, and local supporters of the group.
The Caithness Mental Health Support Group is a voluntary non-profit making organisation. The group runs two centres – one in Wick (The Haven), and one in Thurso (Stepping Stones). Part of the Support Group's function is to encourage an understanding of Mental Illness, and the promotion of Mental Health. The aim of the centres is to provide a balance of activities, support and understanding in relaxed surroundings, which will encourage an increase in confidence and self-esteem of the members. Emphasis is placed on personal choice. Members also participate in decision making and the development of the centre. Centres provide food and drink on a non profit making basis to motivate and support individuals to maintain a good dietary intake, particulary for those on a low income or those without cooking facilities. For More Information call Chris on 01847892177